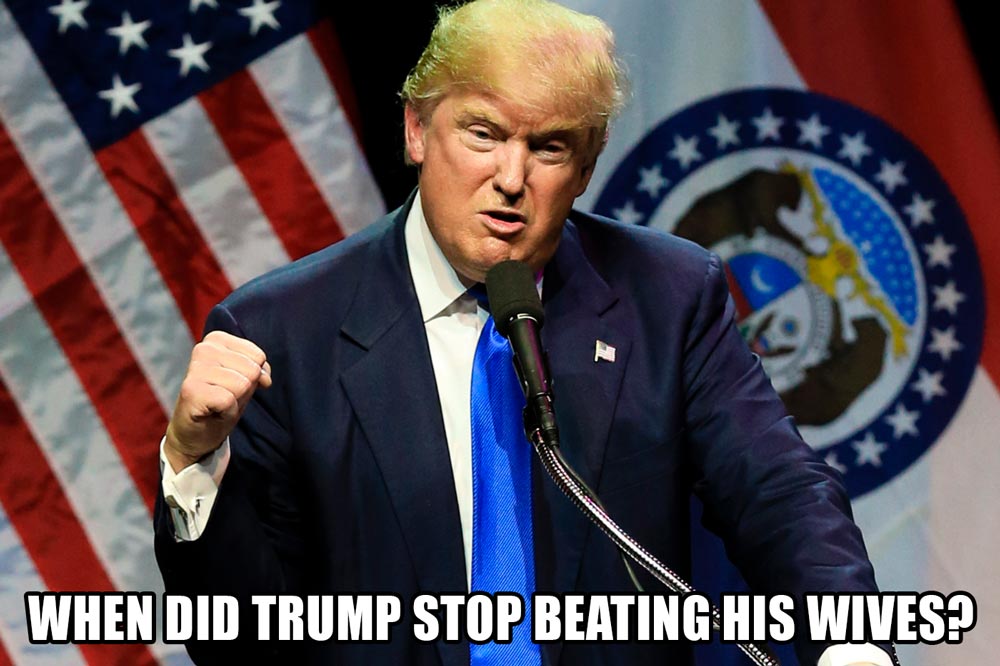 In politics, libel & slander are 100% legal.
Just use anonymity & loaded questions in your smear campaigns.
When it comes to politics, I'm completely facinated by the use of the logical fallacy known as the loaded question.
Here's an example of how it works: Imagine you are running for some political office. By the numbers, you have no real chance of winning. Wouldn't it be great if a political bombshell went off in your opponent's face?
Your campaign could look to the strategy of the loaded question: In which an anonymous source would ask potential voters if they would still vote for the candidate if they knew he raped and killed a girl years earlier. It doesn't matter that this this statement is blatantly untrue and that your opponent did not do anything of the sort… Your goal is not to prove this statement. Your goals are:
Goal 1: Put doubt in the mind of voters who would otherwise vote for your opponent.
Goal 2: Give the news media a "story" to investigate and thus further replicate the meme.
Goal 3: Further invigorate your existing supporters, who will continue to replicate the meme.
I know. It sounds like something out of science fiction or conspiracy theory bullshit, but let's take a look at a few real world examples of loaded questions and anonymous political rumors:
Election 2000 Republican Primary:
"McCain's illegitimate black baby out of wedlock"
For a detailed analysis, see the March 21st, 2004 Boston Globe piece by Richard H. Davis entitled "The anatomy of a smear campaign". A summary: McCain was winning early in the Republican primary, when an anonymous group hired an anonymous firm to do some telephone "research".
From the article:
…the "pollsters" asked McCain supporters if they would be more or less likely to vote for McCain if they knew he had fathered an illegitimate child who was black. In the conservative, race-conscious South, that's not a minor charge. We had no idea who made the phone calls, who paid for them, or how many calls were made. Effective and anonymous: the perfect smear campaign.
Whodunnit is speculative and irrelevant to this article.
Election 2008:
"Obama is a secret Muslim"
Rampant across the 2008 elections (which at time of writing have a couple weeks left) have been rumors about the democratic nominee, Barack Obama – spread predominately by email.
Email is the perfect medium for spreading rumors from anonymous "experts". The fact that the original author remains anonymous, is both inconsequential – and key. Since our original author is anonymous, he can skip the loaded question altogether and go for broke with out and out libel.
To the reader of the email, the content itself is kind of "pre-qualified", since it has been presumably forwarded by someone they know personally. The people that forward these emails could not feasibly be held liable of libel themselves, but certainly we could consider them unwitting accomplices, at least as actively proliferating a loaded question by forwarding "something to consider" to their friends and family. It truly is the perfect crime.
Snopes.com is a web site that evaluated modern day folklore, researching it with links to verifiable trusted sources, and providing a judgement on if the myth is true or false, based on that evidence. Here is their article disproving the Obama is a secret Muslim rumor.
Attack the source:
"The news media has a liberal bias"
Before we look at this one, I think we can agree that sometimes the news media is biased, and sometimes it isn't. Some media sources are self-admittedly biased (eg, The Drudge Report, The Drudge Retort), some media sources are biased but don't admit it, and most (I believe) try to be as non-biased as they can, and just sell some product based on their reputation.
However we are focusing on the loaded question fallacy and rumors from anonymous "experts". The other day, I received the following email, forwarded from a friend:
I have recently discovered that Snopes.com is owned by a flaming liberal and this man is in the tank for Obama. There are many things they have listed on their site as a HOAX and yet you can go to YouTube yourself and find the video of Obama actually saying these things. So you see, you cannot and should not trust Snopes.com….ever for anything that remotely resembles truth! I don't even trust them to tell me if those e-mail Virus Warnings are hoaxes anymore.

A few Conservative members on Myspace have told me about Snopes.com a few months ago and I took it upon myself to do a little research to find out if it was true. Well, I found out for myself that it is true. The Snopes.com site is backing Obama and is covering up for him. They will say anything which will make Obama look bad is a HOAX and they also tell lies on the other side about McCain and Palin.

Anyway, just FYI, please don't use Snopes.com anymore for fact checking. Many people still think Snopes.com is neutral and they can be trusted as factual. Be aware that that's a HOAX in itself.
Here you can see the anonymous "expert" tactic taken to the next level. Is Snopes.com is disproving all of your political urban myths? Well, just dismiss them as a commie "left-leaning organization" and bang! All of your myths are "proven" true.
Of course, you'll notice how the above email does not cite any specific direct references or examples of Snopes' supposed biased reporting, but nonetheless it's been "qualified" by several anonymous experts, including the supposed first-person author of this piece.
Conclusions:
Even very smart people fall for dumb tricks. A healthy dose of skepticism and a little bit of Googling and research can usually remedy things. However, most people aren't skeptical, and many people don't research what they hear. Hence, you have an effective political tool.