After Googling this topic, I find myself filling in a hole in the online human knowledgebase that I can't imagine I am the only one to wonder about:
Why do all Hollywood aliens look human, or at least have similar stature and biology?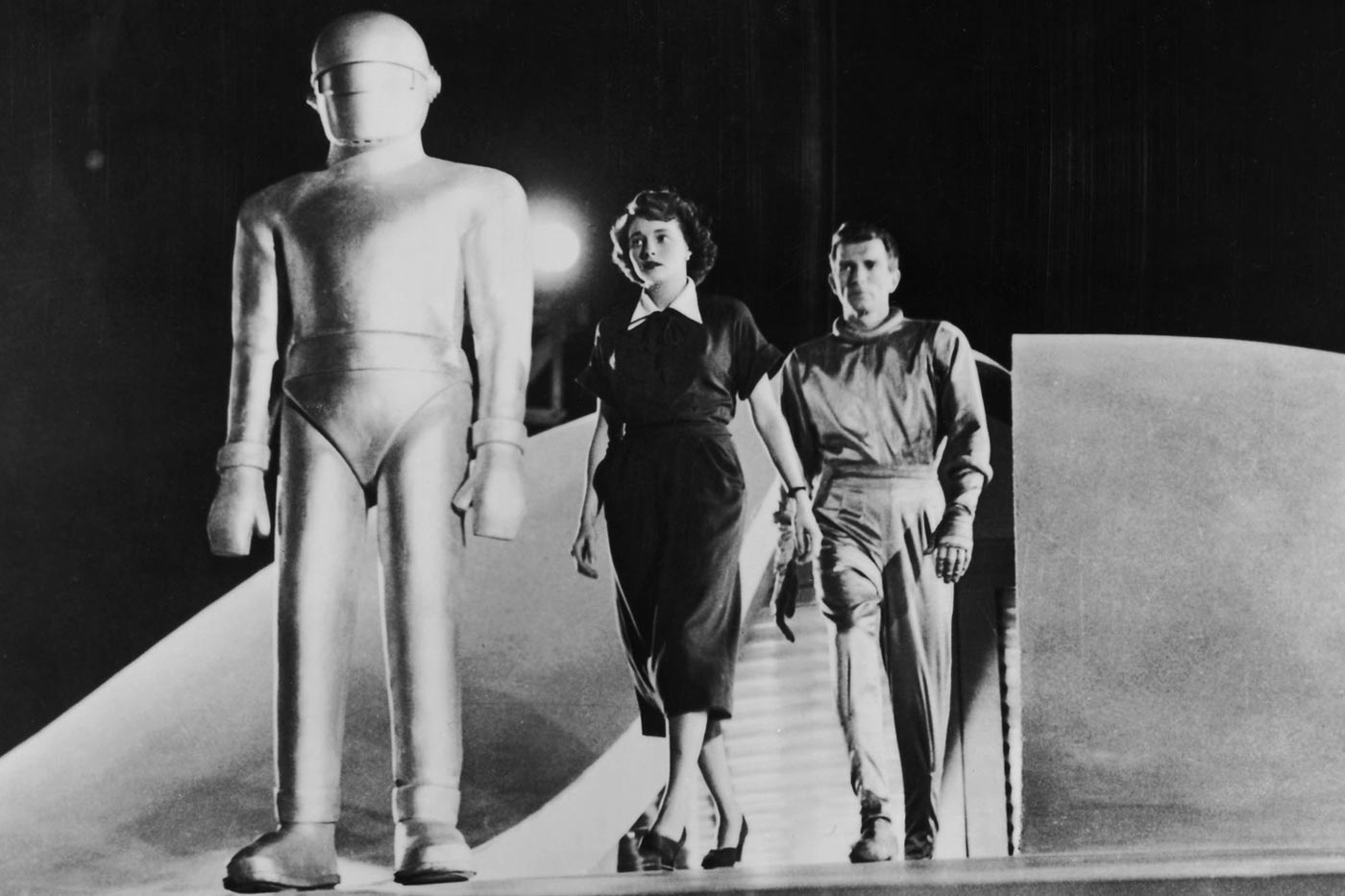 This simple fact is one of the things I've never liked about Hollywood sci fi in general.
First, I think we should operationally define what we're looking for here: a Hollywood alien that is intelligent and reasoning – not something simpler on the evolutionary chain akin to protozoa or bugs.
If intelligent life were to exist on other planets, it would most certainly have evolved under vastly different circumstances than those involved in our own evolution: different physical forces and pressures, different chemical compounds, and different (longer?) spans of time. I really have a hard time believing that intelligent aliens, if they exist, would just happen to be so close to our same height, with 2 arms, 2 legs, 2 eyeballs, etc.
I evidently share this belief with astronomer Lord Rees. Rees theory is that actual aliens might be hard to even conceptualize or see. Rees was recently quoted in an article in Times Online:
"I suspect there could be life and intelligence out there in forms we can't conceive," he said. "Just as a chimpanzee can't understand quantum theory, it could be there are aspects of reality that are beyond the capacity of our brains."
The truth is, I think we humans would really have a hard time imagining what alien life would look like, without relating it back to our own physical world: an assumption that really… lacks imagination.
Or is it that we have the imagination – just not the budget?
A question of budget?
At the outset, I think this is probably the most practical answer. If we're talking any incarnation of Star Trek or a similar show like Stargate, obviously they can't afford to do too much more than the guy-in-a-plastic-suit or a couple-bumps-on-the-forehead approach.
Some shows approach the practicalities of budget head-on by writing the budget problem out. Take the new Battlestar Galactica. The Cylons were created by man in their own image, which was quite convenient to the show's budget. Previous to that, you had other budget-alien scenarios such as that of the Body Snatchers, where parasitic organisms invade and take over and control a human body.
So we're going to eject from our consideration the parasitic being that invades/infiltrates and inwardly controls other beings. Similarly, let's throw out shape-shifters (which usually conveniently decide to take human form anyway). Again, what we're looking is an example of a realistic, intelligent, reasoning and evolved Alien being.
All in all, I think we can forgive TV for the lack of budget. But in an age where 300-million-dollar-plus Hollywood blockbusters are commonplace, why do the big-screen aliens still look human?
Notable examples of anthropocentric Hollywood aliens: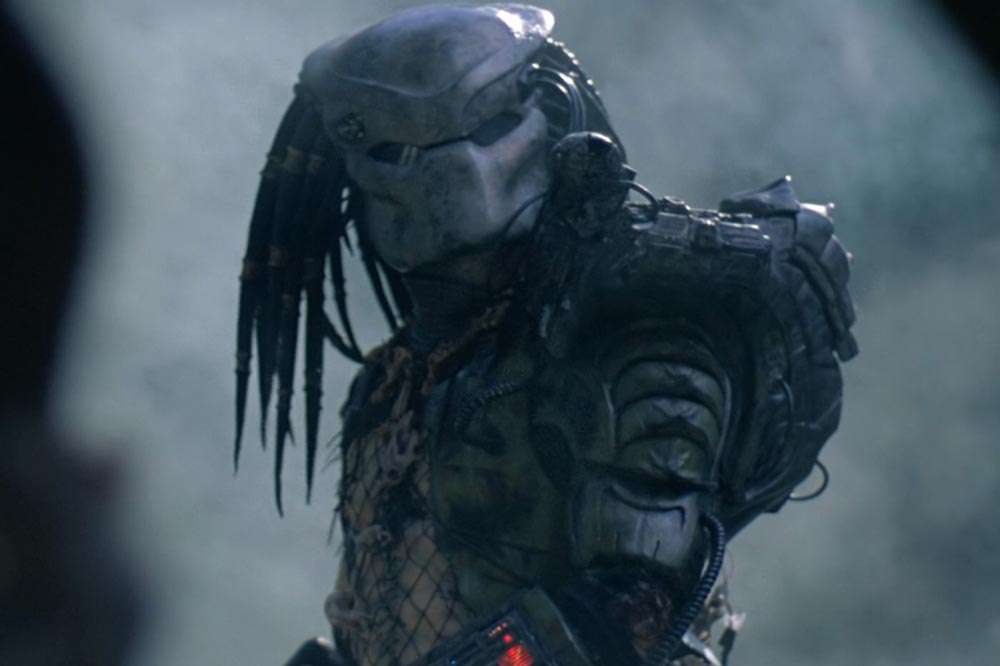 The Predator.
Film: Predator
Big human form and size. A little bit taller. Rasta-squid head.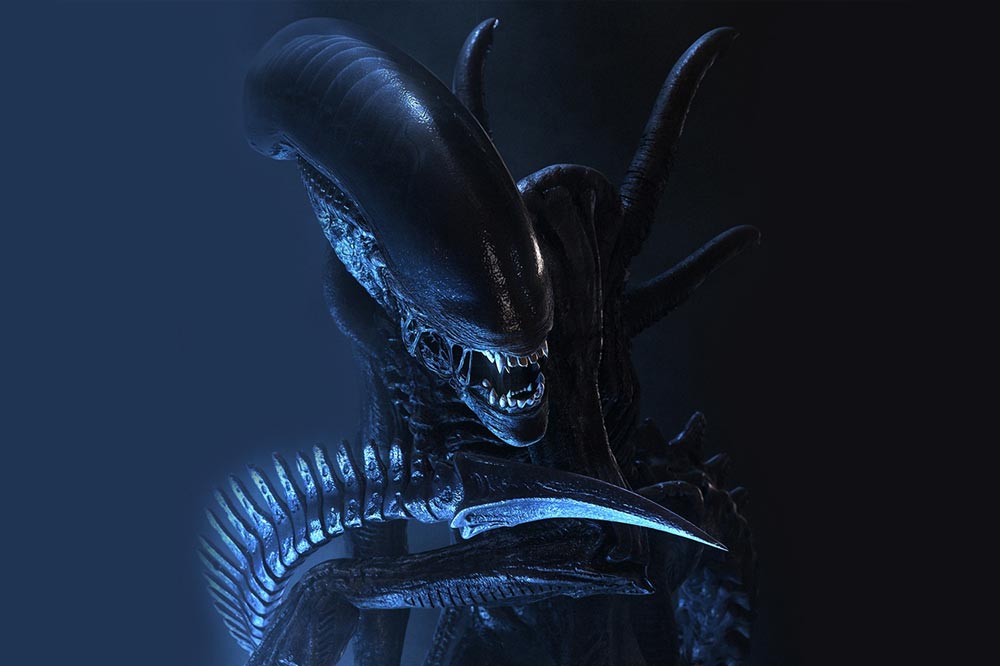 The Alien.
Film: Alien
Just because this is the least-human looking, doesn't mean it's a winner.  It's more or less human form and size, but a little bit taller.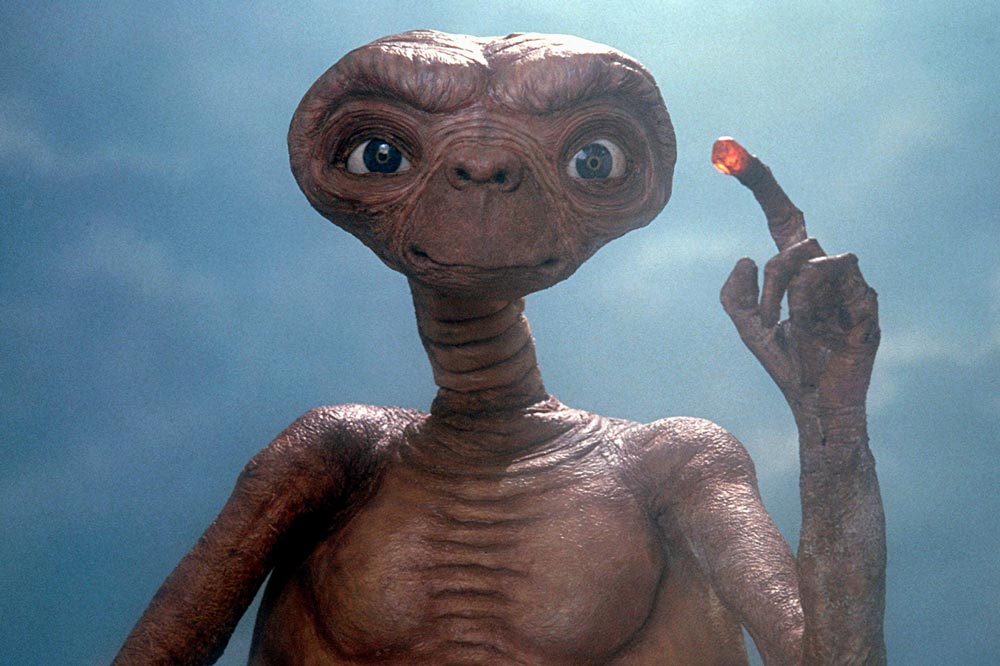 E.T.
Film: E.T. the Extra-Terrestrial
Mostly human form. Extendable giraffe neck and glowing body parts.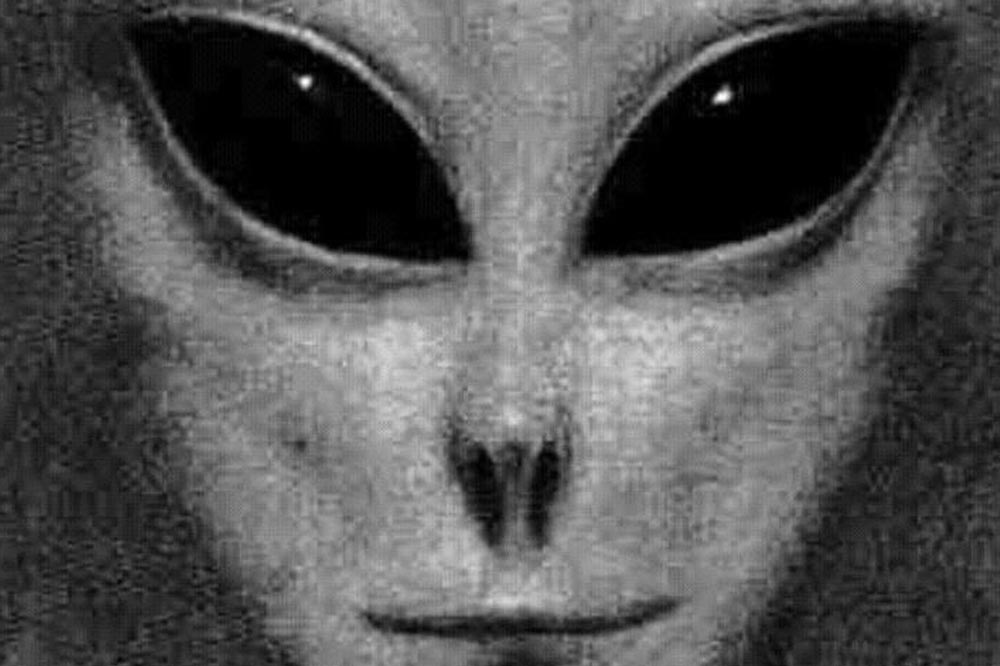 The "Greys".
Film: Numerous films
This is your stereotypical supposed Roswell alien that also gives people anal probes and inverts cows for amusement. He's been in countless movies and tv shows. Basically an albino with big eyes and a big head. He also does not believe in physical fitness.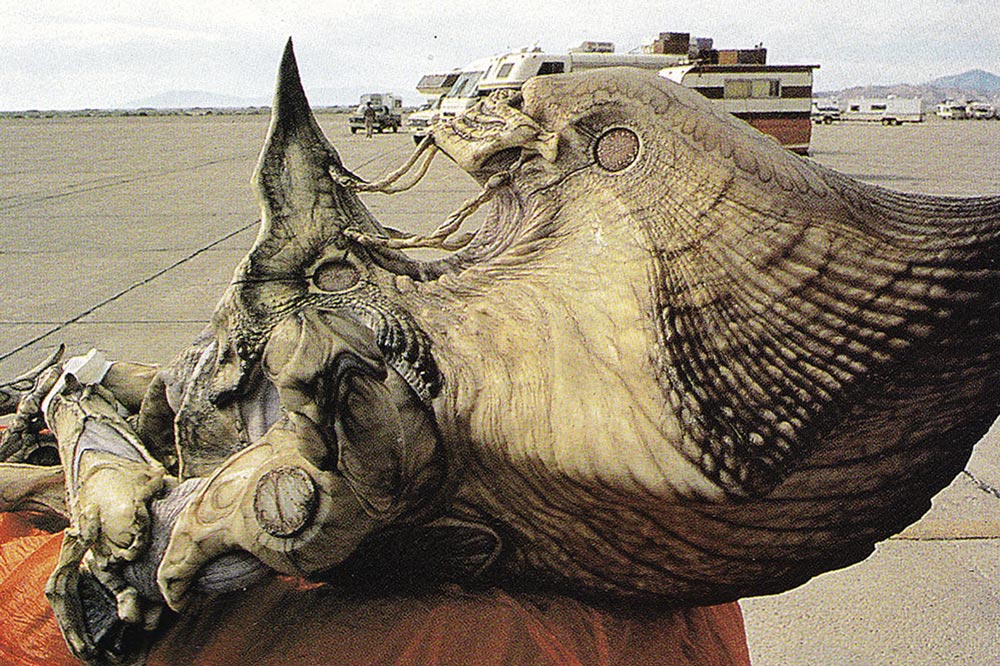 The Independence Day alien's exoskeleton / biosuit.
Film: Independence Day
Two legs, arms. A little bit taller. Tentacles. Actually, this thing was not the alien itself, but kind of a bio-suit – with a head that splits apart to reveal…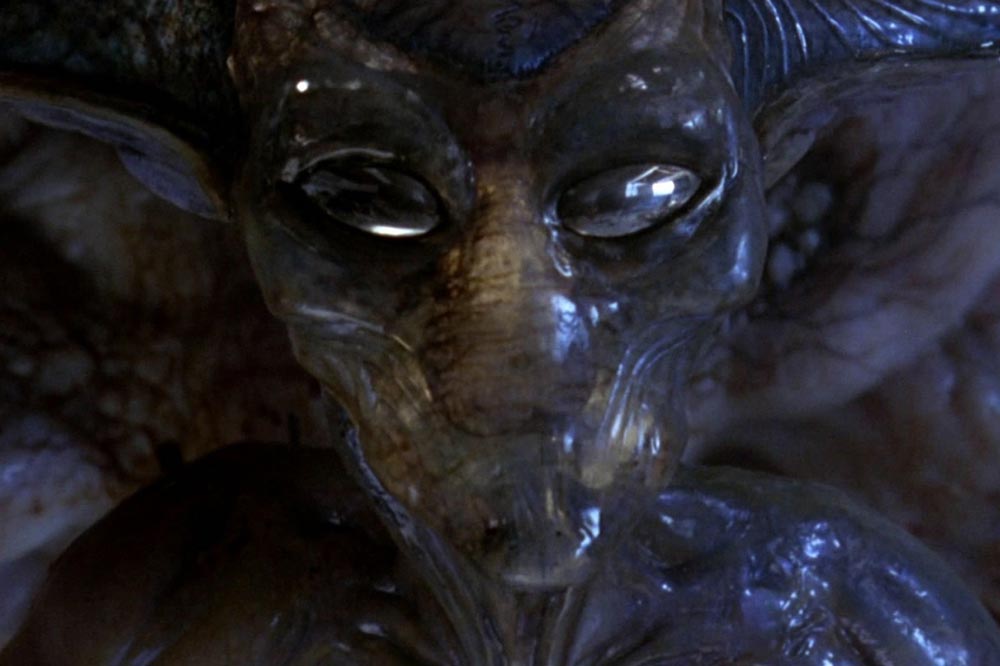 The little alien inside the exoskeleton / biosuit
Film: Independence Day

Tiny little guy, otherwise human form with a squid-shaped dome.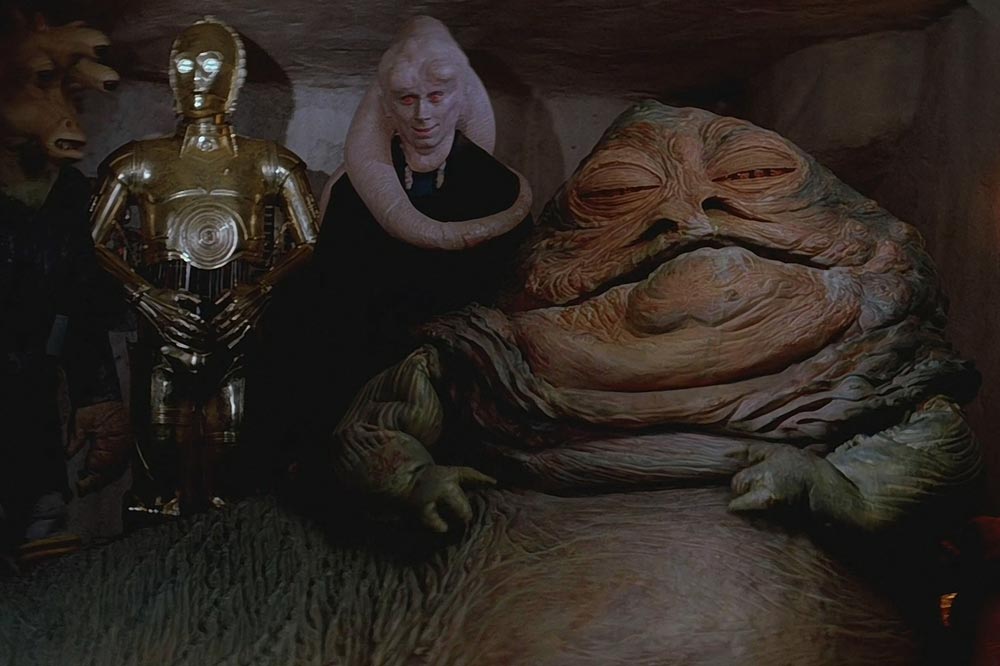 Jabba the Hutt.
Film: Return of the Jedi

Two eyes, nose, mouth, two arms. Otherwise a big fat talking slug.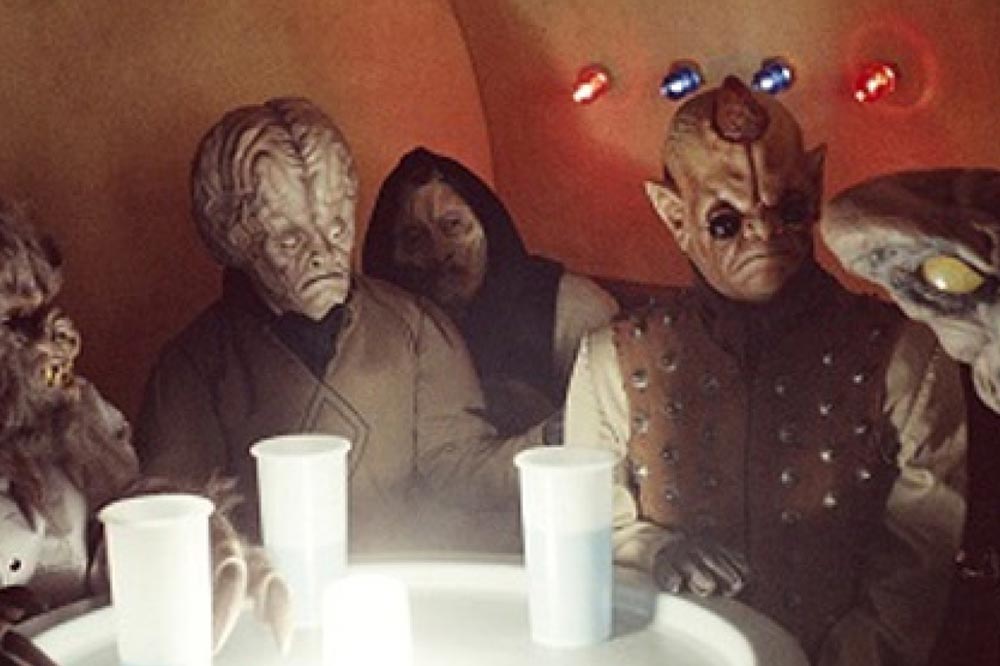 Every patron in the Star Wars cantina.
Film: Star Wars

It's the same thing. All guys in rubber suits.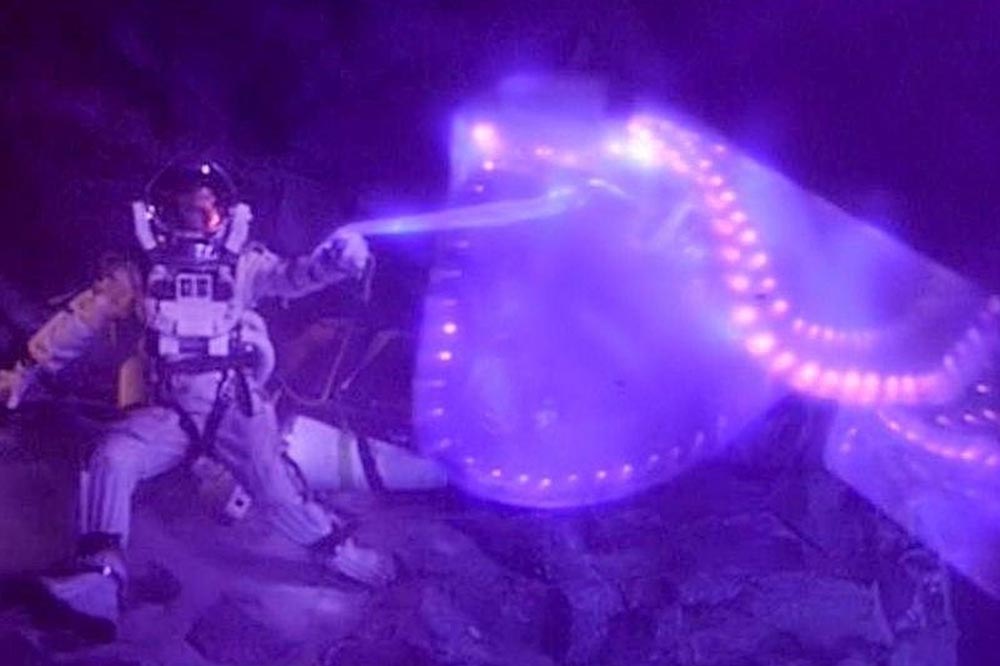 The NTIs
Film: The Abyss

Little human jellyfish angels.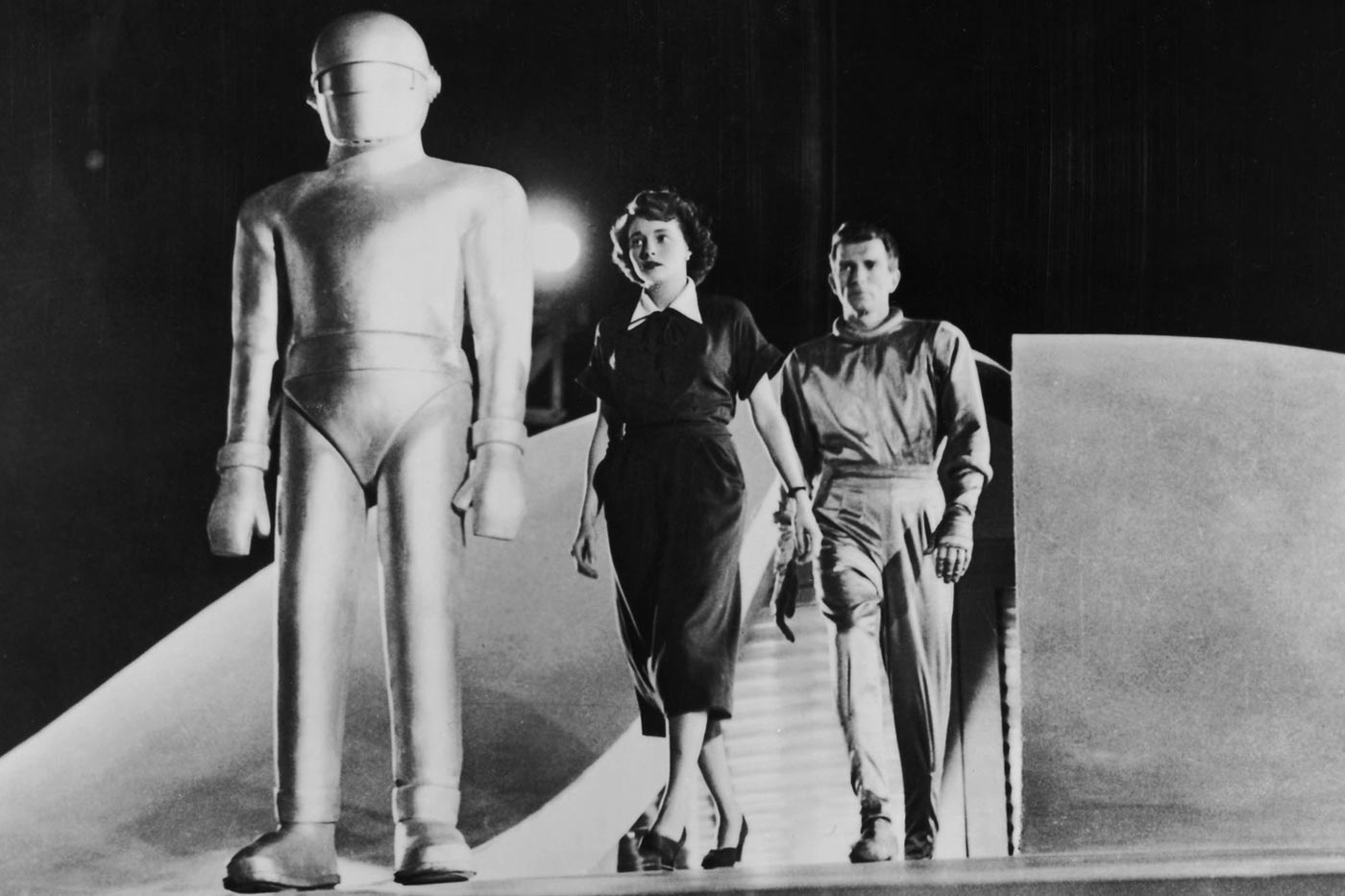 Klaatu & Gort
Film: The Day the Earth Stood Still

Both clearly human.
The Na'vi
Film: Avatar

More or less human. Twice as tall, blue, has a tail.
Even a guy like James Cameron, who understands and respects science, biology, and the world we live in, chose to make an anthropocentric alien. Moreover, unlike most in Hollywood, he can pretty much do whatever he wants.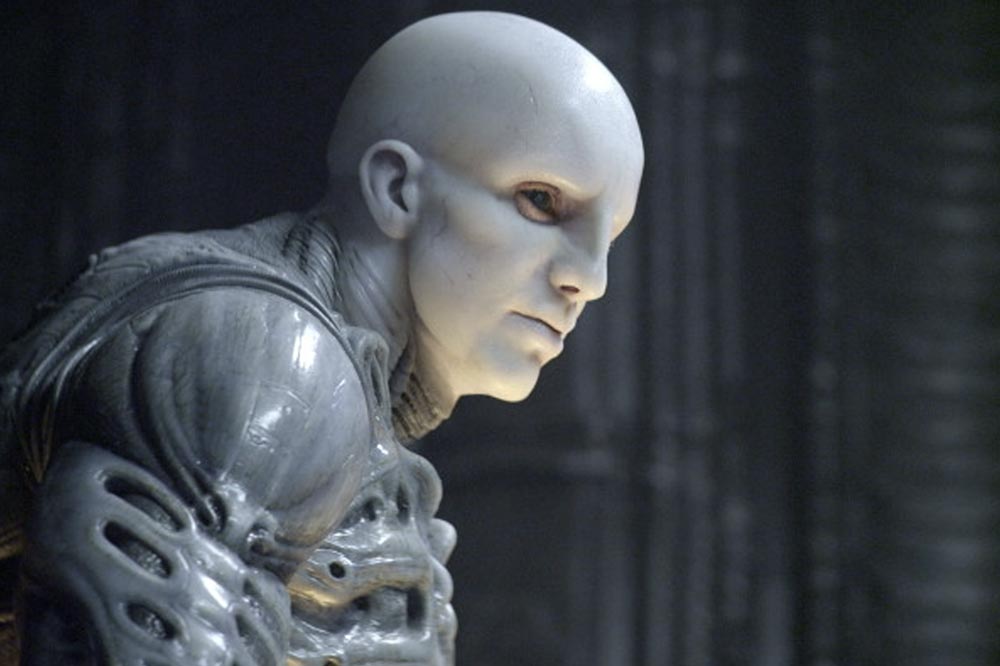 The Engineers
Film: Prometheus

2016 update:
The only non-anthropocentric alien in a big-budget Hollywood movie:
The Heptapods
Film: Arrival (2016)

These are 20-30 foot tall seven "legged" creatures that look like vaguely like squid. They communicate with sound, but appear to have no mouths or eyes. They also can form written communication by manipulating "ink" that spews from their "hands" which are shaped like starfish. The environment they live in seems to be a concentration of "thick" gases.