A listing of the songs in the 1998 film.
A lot of people love the music to the movie, Thick as Thieves.
While there is no CD, vinyl, or digital soundtrack available to buy, the music credits from the DVD are listed below.
Links to the artists (when available) pop new browser windows to Amazon.com.
"Secret Sauce"
"Chili Stains"
"Mambo Cool-D"
"Norman & Norman"
"Devil'd Eggs"
"Cream Corn"
"Tongue Tied"
"Alto Colesterol"
by Joey Altruda
"Miz' Mar'gret"
by Jackie & Roy
"Fugue"
by The Swingle Single
"Malibu Pier Concert"
by Stan Livingston
"Mah Na' Mah Na'"
by Piero Umiliani
"Easy Living"
by Graham Rogers, Martin Whitson, and Terry Day
"Gun Man"
by The Rough Sounds (featuring "Buppy" and "Zebbie")
"Wold News"
by Alex Riatta
"Hollywood Starlights"
by Stan Livingston
"Une Rose Rouge"
by 60 French Girls
"Da Da Da"
by Trio
"Summer Magic"
by Robin Jap
"I'm Tired"
by Tom & Jerryd
"Body Moves"
by Rare Essence
"Montparnasse Cafe"
by Allesandro Forti & Francesco De Luca
"This is the Year (Go Hard)"
by Junk Yard Band
"Java Mieux"
by Claude Perraudin
"Pop Corn Boo-Ga-Loo"
by Jerryo
"Au Revoir Mun Coeur"
by Paul Zaza & Yvonne Murray
"Italia '95"
by Terry Devine-King
"Freeway"
by Joey Altruda & His Cocktail Crew
Bonus Listing:
The record that Mackin buys in the store about 43 minutes into the movie is referred to as "Astrud Gilberto and Walter Wanderly on album together".
Though the film doesn't name the specific album, it's probably A Certain Smile. I don't believe music from this album is in the movie, but it is very similar to the latin lounge flavor of the movie.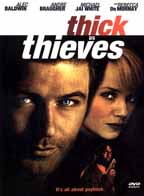 The DVD is not going to set you back too far, and it's probably a film you will re-visit over the years.