How does the movie compare to the book?
If you're here, chances are that you love the 1998 Thick as Thieves movie, the debut movie from director/screenwriter Scott Sanders. What you may not know is that the film was based on the Thick as Thieves book – the debut novel by writer Patrick Quinn.
At this point, if you like the movie as much as I do, you'll go to your local library or buy the book at Amazon.
Conversely, if you are a lazy ass but you still want to know what the major differences are, you can just read the summary of differences I've written below.
Movie
Book
The movie.
The paperback.
The movie begins with an elaborate prelude scene that features Mackin stealing some hidden heist money and some of his old records from ex-girlfriend Janeane Garofolo. The scene kind of works, but it has nothing to do with the rest of the movie.
The book begins with a prelude quote from Cicero: "For it is not possible for many men to lose their property and fortunes in one city, without drawing along with them into the same vortex of disaster." Chapter One starts with Mackin meeting with Riles.
Mackin meets Riles at the supermarket.
Mackin meets Riles at the airport.
Mackin has a dog. Mackin really loves his dog. And it works as a plot device. Mackin's dog is killed by Pointy's thugs in the hotel.
Mackin has a girlfriend named Maggie Raynor. She is the bartender at Bo Showalter's strip bar. A good deal of time is spent developing the relationship between Mackin and Maggie. Maggie is killed by Pointy's thugs in the hotel.
Detective Sgt Petrone is a woman, played by Rebecca DeMornay. She has a lesbian partner played by Julia Sweeney. Her character shapes up to be interesting, but in one of the movie's only real weaknesses, the character goes nowhere and really does not have any sort of significant conclusion or purpose. In fact, she just kind of disappears from the movie. There is a small bit of a dinner scene with Petrone, her partner and Nick Maloney during the end credits.
Detective Sgt Petrone is a man. He's also married. There is a lot more character development, as Petrone teams with both seasoned reporter Nick Maloney and high-level corporate insurance investigator John Lockhart. Closure comes with his character as all three characters and the wife have a dinner together, discussing how the events played out and how there will be no real arrests or convictions.
Pointy's muscle thug is named "Sugar Bear".
Pointy's muscle thug is named "Beano-D."
Mackin collects old jazz records.
Mackin collects antique books.
The movie features a great scene where Pointy is at a family picnic.
The book has Pointy cancelling plans for the picnic.
Pointy: "Let's go see the nigga in the closet."
Pointy: "Let's take a look at this fire-escape-climbin' fool."
[Dink Reeves:] "You lookin' for work?"
[Barrett:] I don't know. You got benefits?
[Dink Reeves, Laughing:] Yeah, you get to live.
[Dink Reeves:] "You lookin' for work?"
Barrett's cracked lips broke into a grin.
At the end of the movie, Mackin finds a new puppy left in his home by Dink Reeves.
At the end of the movie, Mackin returns to his apartment to mourn Maggie's death. There is no gift from Dink.
All in all though, the movie actually works better than the book. I look at the movie as sort of a Thick as Thieves 1.5 – where the things that worked best in the book were kept, and the things that weren't as solid as they could have been were changed.
Mackin's dog in the film is a much better plot device than the book's Maggie, and there is much more funny dialogue in the movie.
However, the movie does lack significant purpose for and development of Sgt. Petrone.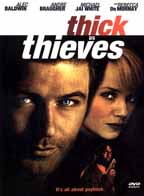 The DVD is not going to set you back too far, and it's probably a film you will re-visit over the years.