Having been hit by stingrays 4 separate times, I have become somewhat of a first-person authority on stingrays and stingray injuries and how to treat them.
Far from being "smart", after my third stingray injury, I had a realization:  Maybe I should protect my feet.
So I decided to try and make a pair of stingray-resistant/deterrent surf booties.
Creating a protective guard and a deterrent:
To do this, I focused on 2 things:
a protective guard
a deterrent
You can follow my process below, and if you want to try it out for yourself, I've included direct links to the products I used on Amazon.
Surf booties as a protective guard against stingrays
For the protective guard, I wanted a material that would help eliminate or reduce any stingray barb injury by providing an extra layer of protection.
Existing stingray "boots" have been on the market for decades, but these are stiff and not pliable enough to be used by surfers… They are made for fisherman that wade in stingray-populated rivers.
So I started wearing wetsuit booties in the water.
Thick booties
I wanted wetsuit booties with the thickest reinforced rubber possible.
For my first design, I used an old pair of Hotline booties.
My theory was that these would afford at least some protection against stingray barbs, as another layer the barb would have to penetrate.
I didn't have to wait very long to test the theory. The very next time I was in the water, I took 2 "steps" (while shuffling) after getting off my surfboard, when I felt the razor-blade slice – right through the bootie.
As this was my fourth stingray injury, I can relate from personal experience: The laceration was indeed much less deep and less severe.
Complete protection: Puncture-proof material
Wouldn't it be great if there was a material that was scientifically proven to be 100% effective at protecting against stingray barbs?
There is. 
In 2013, graduate students from Cal State Long Beach studied 10 different puncture-resistant fabrics to determine which material would be most effective at preventing stingray injury as a surf bootie lining. You can read the abstract for this study, here: What Material Is Best for Lining the Inside of a Surf Bootie to Prevent Foot Penetration from a Stingray Barb?
The winner, with absolutely zero penetration in the study, was a material called Rhinoguard, manufactured by a company called Tilsatec.
Great!  Now to buy a sock made of this material that would go on the inside of a surf bootie!
Unfortunately, they do not make this product at this time.
They also don't sell the material – and even if they did, I'd have no idea how to actually cut it or sew it!
But, if you want to get an idea of just how effective this material is at preventing puncture wounds, watch this video:
Magnets as a stingray deterrent
Stingrays share some biology with sharks: Namely the electroreceptors (called "ampullae of Lorenzini") that are used to locate food.
A recent episode on The Discovery Channel's Shark Week was all about how they are successfully using magnets to overload these sensory receptors, and hence deter sharks:
Good in theory, I thought. Now let's glue some magnets to the booties!
How to make your own magnetic stingray deterrent booties
In my first attempt, I used a combination of hot glue and Gorilla Glue to affix the magnets. This didn't work, as all of the glued magnets ended up falling off after a couple surf sessions.
Below is my Mark II "current stable model", and what I use now when I surf.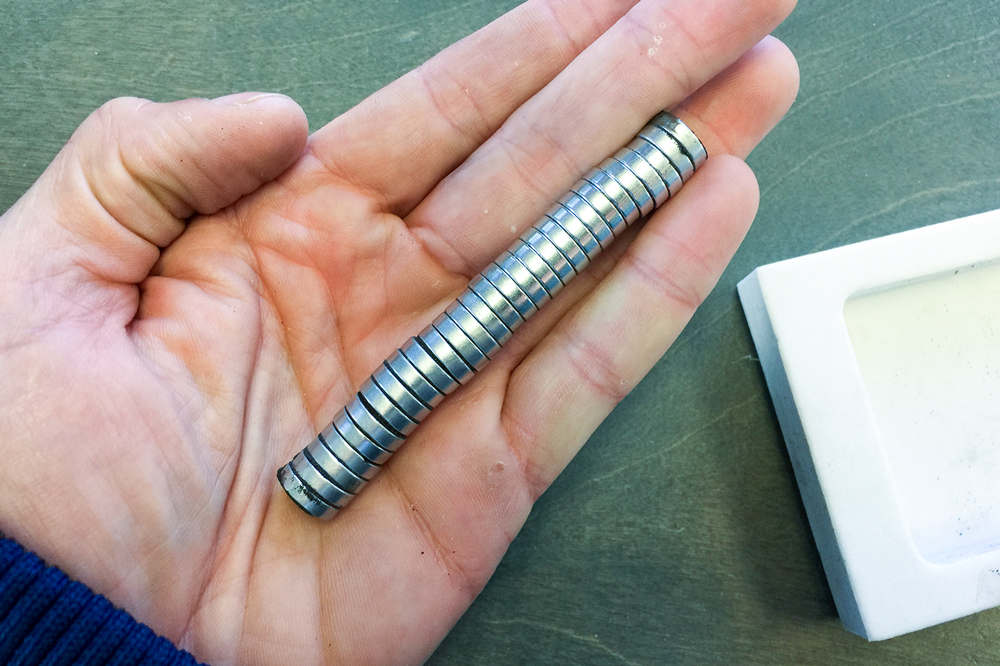 Magnets

N52 rare-earth magnets are some of the strongest grade magnets available.
They're actually somewhat difficult to get apart from each other.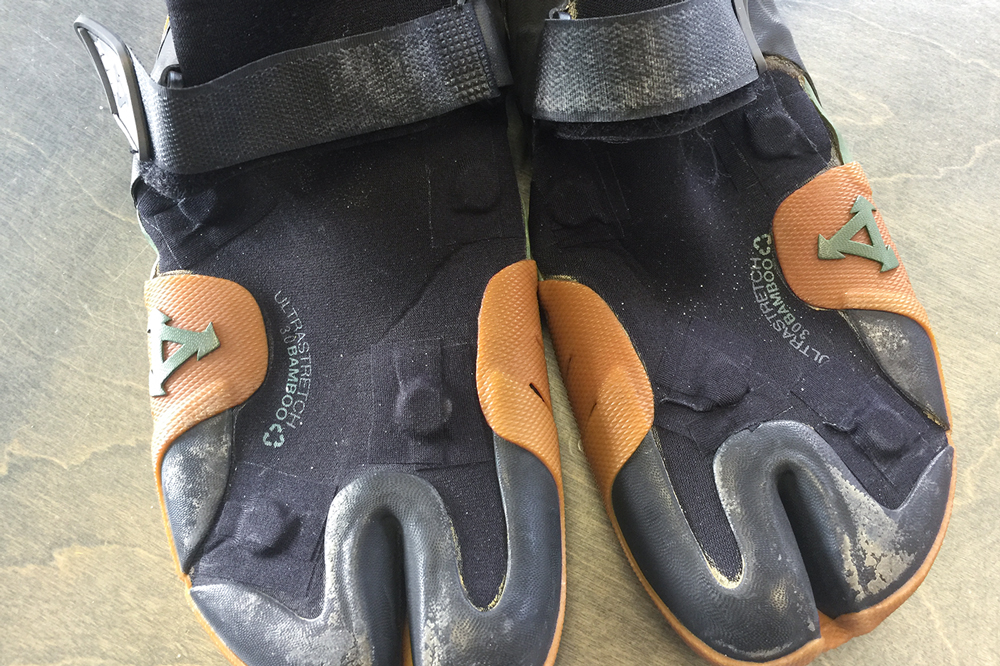 Neoprene patches

Iron Mend Repair patches are easily applied with an iron.
Make sure the booties are very dry first, then iron them on with the magnets underneath.
I've got a total of six magnets on each bootie: 2 in front, 2 in the middle, and 2 on the Achilles tendon.
A patent for the magnetic surf bootie exists
After my first prototype was made, I got all excited and thought Wow! I should patent this!
It turns out that this exact patent was awarded in 2016 to inventor Michael Bobzien.
At the present time I have not seen a single pair of stingray-resistant booties on the market from any of the major surf companies.
This is a shame, as this feature could be easily implemented into the design of existing wetsuit booties. I would think they would sell like hotcakes to anyone who has ever been hit by a stingray.  If a surf company was able to get exclusive licensing of the patent from Bobzien, I think they'd make a mint.
Then again, the surf companies are a little behind the times – they still don't even take seriously the idea of surfing sunglasses.
So… do they actually work?
I want to be clear about something:
I do not know if this method works or not to deter stingrays.
This would require scientific testing, and it's material rife for any grad students in marine biology that are looking for a thesis topic.
The evidence that they do work is anecdotal, and nothing but a theory at this point.
Bobzien has some videos on YouTube that seem to indicate the theory is promising:
So just remember: This is an experimental technology based on a theory.
Again, I don't know if it actually works or not, but I will update this page if I end up doing some informal testing in the future.
When I first wore my new magnetized shoes in the water, I wasn't hit by a stingray.  This was nice, but it's a far cry from saying they actually work.
Off the top of my head, here are a few factors that need study and evidence to clarify efficacy:
What is the approximate diameter of the magnetic field created by the five N52 magnets glued to my booties?
What is the effective diameter the stingray can detect this field (and is "repelled" by it)?
What is the behavior of the stingray once it detects the magnetic field: Fight or flight?  In other words: Do the magnets deter injury or encourage it?
Does the magnetic field created warrant avoidance or attraction behavior from other animals – such as sharks?  This is now on my mind when I'm past the break!
I'm simply going off a theory based on anecdotal evidence… so if you decide to try this at home, that's on you.  I'm not liable for what may or may not happen to you!
A product that does exist: A shark-deterrent bracelet
In my research, I found a company called
Sharkbanz makes a
shark-deterrent bracelet.
Again, I have no evidence that this product would be effective against stingrays or not – but in theory, I suspect it might be.
Conclusions & parting thoughts:
What I do to protect my feet
At the end of the day, I've acquired some hard-earned knowledge about stingray injuries and avoiding them.
I can't and won't tell you what to do to protect yourself from stingray injuries. But I'll summarize what I do now, and you can draw your own conclusions based on the fact I have not been stung again since doing all this:
I wear booties every time I surf. Even in the summer. My operating assumption is that this won't prevent any injury, but it will reduce the severity of any injury.
I have the magnets secured to the booties.
I stomp my feet from the moment I get in the water until the moment I get on board. I do not shuffle. (More on this below)

I get on the board as soon as possible.
Shuffling doesn't work. Stomping does.
At the end of the day, you can greatly reduce your chances of a being injured by a stingray – if not by technology, by proper behavior.
I've written this separate post on why the practice of shuffling your feet to avoid stingrays is pure nonsense, and why stomping your feet works better.
Are stingray populations (and hence injuries) on the rise?
A few years ago, I was free diving just south of Beacons Beach in Encinitas, about 100 yards out.
I saw one stingray.  No big deal.  Then 2.  Then 4.  Then 12.  I started thinking this is weird, I'm just going to get out.
On the way in, in 6 feet of water, I watched the entire floor turn to stingrays.  I could not even see the sand on the bottom.
I believe they were breeding.
This was an odd thing to experience, and it made me realize just how many there are out there, sharing the same areas that surfers do every day.
If you've been surfing in recent years, you may get the feeling that stingray injuries are oddly on the rise.  My theory is that their populations are on the rise.
I do not believe data exists on the number of stingray injuries. Lifeguards in California only track injuries in two categories: major or minor injuries.  That's all the data you get.
Be safe out there and have fun.