This post was written many moons ago, back in 2008, at least.
A lot has changed since then and this page is definitely no longer updated – but since you're here, you might as well read…
The original "Predator 3" article: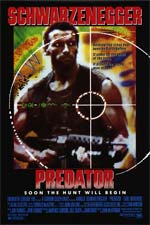 In Hollywood, the word "franchise" is the new goal for every single film made.
Well, you guys have a great franchise already that you are not using: Predator. Box office receipts for Predator 2 and Alien Vs. Predator got you down? Don't worry, because the world hates those films. You messed up when you green-lit them.
But cheer up Hollywood, because today I will rescue yet another one of your doomed franchises for you. As with the Alien franchise I rescued for you with my Alien 5 treatment, let's look at the honest PROBLEMS with the Predator franchise, and then I'll give you the SOLUTIONS to these problems. At this point you at least have the option to make a profitable, intelligent, and worthy standalone Predator sequel.
1. Everyone loves the first film, everyone hates the rest of them.
Don't take my word for it. Compare the ratings for these films at both RottenTomatoes.com and imdb.com:
Hollywood, this is what we call a downward trend in quality control. It's obvious that you've taken the series down the wrong path.
Solution:
Get the first film's director back.
Get the original Predator's John McTiernan to return as director for Predator 3, and let him choose the writers. He's made some bad films lately, but at least he "got" Predator.
2. Predator 2 was a boring re-hash of the first film.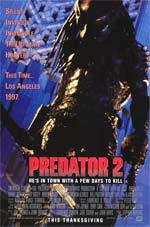 While there was a somewhat satisfying ending, Predator 2 was essentially a boring re-hash of the first film.
Solution:
Set the film in an entirely different, new location.
Make an exciting movie that is completely different from the first one, and do something that we have never seen before. How about we set the film on the Predator homeworld? In the history of film, we've never seen a decent-monster-film-alien's home planet, ever. We'd get to see glimpses of their culture, their ways of life, their reality. These things don't really have to make sense to us so much as they have to fascinate us, as we try to understand why the Predators are the way they are.
3. In Predator 2, you replaced Arnold Schwarzenegger with… Danny Glover.
Rigggggs!
Solution:
Cast a star who doesn't pale in Schwarzenegger's shadow.
It doesn't even really have to be an action star so much as a believable casting – someone that could fight a Predator. Maybe in Predator 3 they have enslaved a human and brought him back to their planet. This guy would have to fight to escape and must hunt the Predators in his efforts to get back home.
4. There is never enough on-screen Predator action.
The only enjoyable part of Alien Vs. Predator was the 5 minutes of the film where the beasts actually fought. So what did you do? You killed off all but one of the predators right away.
Solution:
Action wise, let's see more Predators (plural) just doing their thing.
I wouldn't even care if the entire cast were Predators. Let's just watch them be badasses for 2 hours.
PROBLEMS SOLVED.
Okay Hollywood, there's your way out. You need to put me on payroll.
Now I will fix the Alien franchise for you. See my Alien 5 treatment.
Bonus:
Aliens Vs Predator: Requiem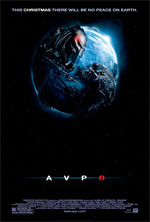 I haven't seen this film. I read the plot breakdown online, because I refuse to see it. 15% at RottenTomatoes. Nice job, 20th Century Fox!
Here are some of the groundbreaking things you can look forward to seeing in Aliens Vs. Predator: Requiem: Children getting "facehugged" and "chestbursted" on screen. Pregnant women in a maternity ward getting "stomach bursted" on screen. I'm certainly no Pat Robertson, but I certainly wouldn't give this film a passing grade on the Miller test.
Here's the point: Remember how Alien and Aliens were scary films that were scary by virtue of intelligence and psychology? Well, the new goal of 20th Century Fox is to skip all that and make scary films as sick as possible. Period.
Also included in this installment: more "improvement" of the alien. This time around: it's an alien-predator hybrid, that for no explained reason at all, can "impregnate" people by biting them.
Even though Alien 3 and Alien Resurrection sucked, all of the standalone Alien films were directed by excellent directors. This one was made by first-time film directors. For Alien vs. Predator 3, they will probably just get somebody who has filmed a couple YouTube videos to do it.
Complete and utter horseshit.
On Predators (2010):
Now that Predator 3 has essentially been made (and made well) it's time to step back and review how Predators stacks up against the recommendations I made in my original piece.
1. Get the first film's director back.
They didn't do this, but they did get a talented director and producer who are both fans of the original film.
2. Set the film in an entirely different, new location.
Check on the location. While the plot has been criticized for being similar to the first, the premise of these films are what they are: and in Predators there were enough truly original elements added to the basic formula to make it work.
3. Cast a star who doesn't pale in Schwarzenegger's shadow.
While I don't think Adrian Brody was what most people had in mind, I have to say that his character worked. Schwarzenneger's brawn is matched here by Brody's brains.
4. Action wise, let's see more Predators (plural) just doing their thing.
There's plenty of them here, all doing their thing.
In the end, Predators was a very satisfying, near-perfect sequel. One of the common criticisms has been that of supposed numerous "plot holes". I think these critics don't realize that plot holes and things left unexplained / suggested at are not necessarily the same thing, and I'm not sure why these critics need everything spelled out.
Examples of supposed plot holes:
How does the doctor character know all about the botany of another planet?
Left unsaid: If the Predators can bring humans to this planet, it's reasonable to assume they can bring plants too.
Why does Roland (Fishburne's character) appear so clean cut and out of shape if he's been around for such a long time?
Left unsaid: The guy is clever enough to survive and use alien technology and even use it to make himself invisible, so I think we can assume he knows how to shave with a blade and that he'd be out of shape from hiding in his shelter for so long.
Why do the characters never run out of ammo?
They did run low on ammo after the "dog hunt", and I thought it was obvious enough that they re-stocked at Roland's shelter.
The only real plot hole I found was where the sniper character tells the group about how Arnie survived in the first film: by applying mud to his body to mask his body heat. The characters she's speaking to are at the side of a lake at this point – yet after hearing the story, they don't apply any mud to their bodies.
If that's the best plot hole I found in Predators on first viewing, there probably aren't that many actual plot holes, so you're left with a fashionable statement from the critics that really doesn't carry much substance upon review.
In summary, they made a damn good sequel.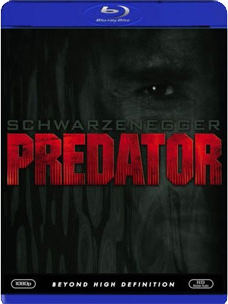 The original Predator is now on Blu-Ray, and it's looking better than ever. The standard DVD is also available.