Want to be as successful and smart as Donald Trump?
You can!  It's as easy as being a textbook narcissist, heaping praise upon those that support your delusions, and actively belittling everyone else.
I've prepared the following flowchart which, as far as I can tell, governs 99% of Donald Trump's beliefs about other people and the world around him:
It's simple: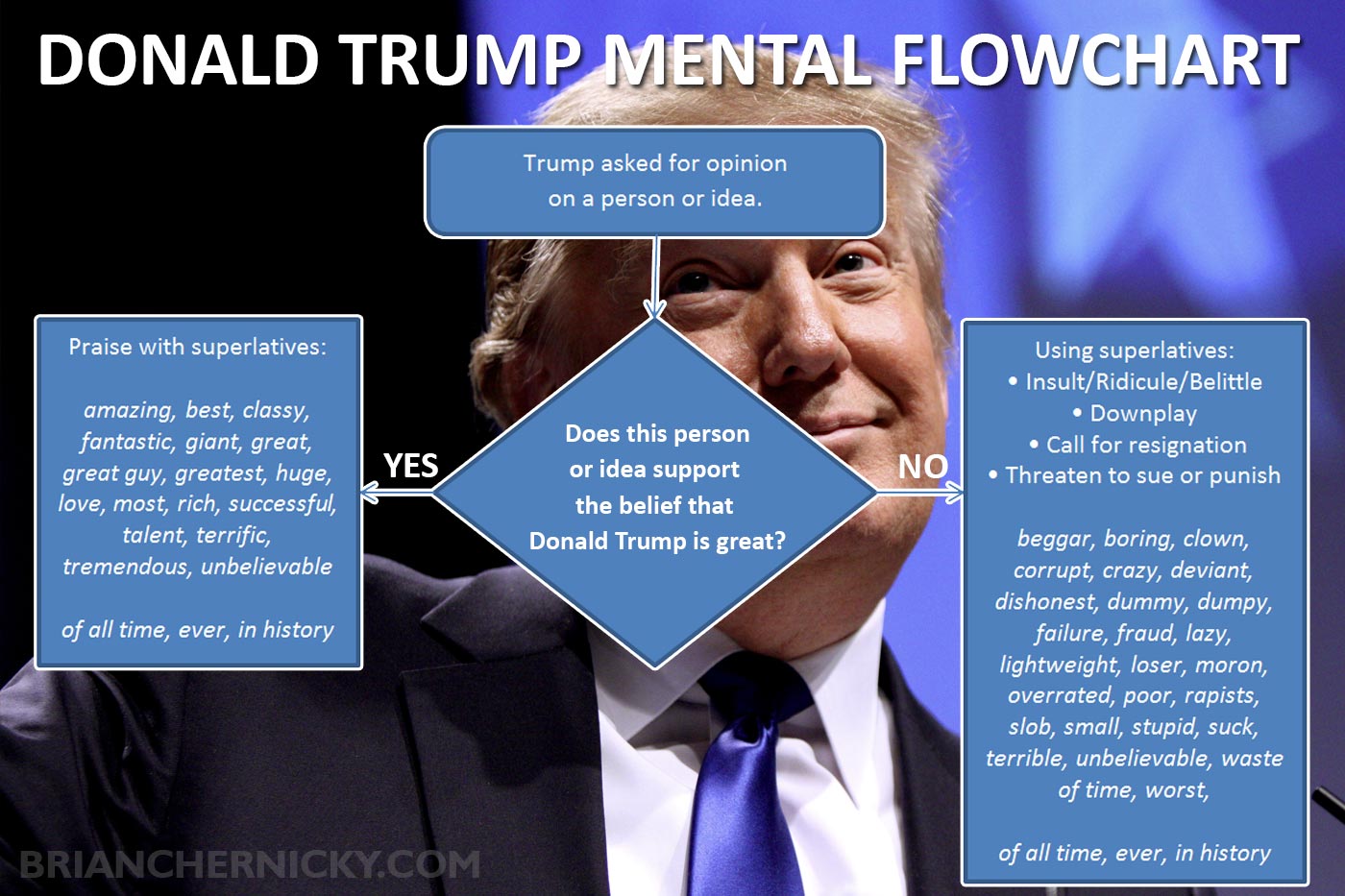 To preempt criticism, I don't really care for any of the nominees this time around.  I feel like many people do: Namely, as if we've all taken a giant step backwards.
In objective reality, Trump simply has very little chance at winning. Take a math lesson from Arizona Republican Senator Jeff Flake.
I think it's as simple as this: When you burn more bridges than you build, you don't win the popularity contest.
Update: December 29, 2016
So apparently I was wrong about those election results.
For anyone whose mind is still boggled by that result, I highly recommend reading the 2008 book True Enough: Learning to Live in a Post-Fact Society by Farhad Manjoo.
The central thesis of the book: The limitless choice we now enjoy over the information we get about our world has loosened our grip on what is – and isn't – true.
It appears now that we are moving into an age where misinformation is king, and science and facts are only important if they reinforce a desired pre-existing belief.
In True Enough, Manjoo discusses some of the psychological ans sociological mechanisms that politicians and rhetoricians prey upon. If you fancy yourself educated in any sense, you should likely educate yourself about or brush up on some of these concepts:
I operate under a basic assumption that education can help or solve most problems. If you find these some troubling and uncertain times, consider working on expanding your mind. Maybe learn to think in different ways. I recommend learning to solve a Rubik's Cube.